To gain 40 years' worth of experience, you need to do 40 years of work. There are no shortcuts. What began with one man with a passion for good design coupled with an unquenchable ambition has, over four decades, grown into a company with time-honoured expertise.
As our industry has changed, so have we. We strive to deliver a difference for our clients and projects. To constantly stay ahead of the curve with the openness to listen, learn, question and collaborate.
82 – 22 celebrates our craft and journey through four decades of collaboration and exploration. A glimpse into our culture, people and process. It is not exhaustive but rather a curation of the projects and moments we enjoyed and look back on with pride.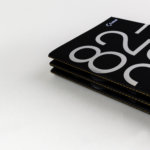 Submit the form below to request a hardcopy 82—22.
Alternatively, click here to download a PDF version