In the heart of London, Larchpoint Capital had their offices refurbished by BW Workplace Experts. We were commissioned to produce and install internal signage and environmental graphics. All designed to complement the attractive tones of the teal, deep blues, and purples of the brand colour palette, artfully employed by Orbit Architects for the interior design.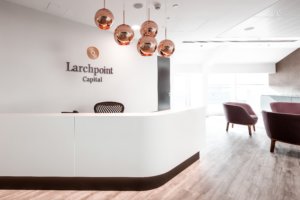 To greet people as they enter the office, a three-dimensional logo was fitted above the reception area. This was designed with the brand's logo palette of purple and copper, to both complement and contrast against the elegant wall colour whilst drawing on the copper detailing on the walnut doors and desk. This creates a welcoming feel as you enter the office, crafting a professional and attractive space, echoing the care the brand takes with its clients.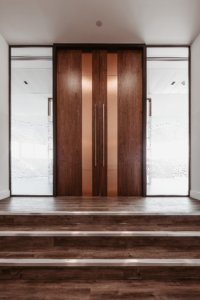 As you move through the workspace, we produced environmental graphics and elegantly cut-out privacy films. The design of this is based on the contours of a map, which features throughout the company's marketing materials and branding. These graphics help to draw the eye down the hallway, keeping light moving through, whilst also creating balanced private and collaborative working spaces.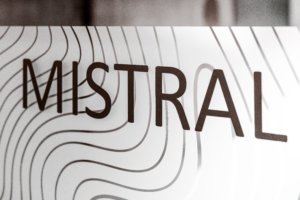 For the final details, their sophisticated phone booths received full-size translucent coloured vinyl over the glazing areas to match the colour scheme for the project; they feature a black and white photograph that spans across all three booths, forming a whole image when you stand back. Each meeting room was also finished with environmental graphics using the same vinyl applied throughout the project, creating a sense of identity and cohesion with their brand.
The stunning end result created an engaging, contemporary, and inviting office space, which is equipped to handle whatever the new conditions for returning to work may be.
Creative Partner: Orbit Architects
Client: Larchpoint Capital
Fit-out: BW Workplace Interiors
Photography: BW Workplace Interiors
Services: Internal bespoke signage and wayfinding, environmental graphics, bespoke privacy film
Location: London
Sector: Office and Workspace